How to Make the Perfect Instapot Monster Mash
I want to share something I have been trying to master for almost a year now. I make a batch of "Monster Mash" at least 3 days a week for my lunches.
I have prepped food for years now and I am no different from you…I loathe doing it! BUT I know that I will not make clean choices if my meals aren't prepped. I struggle with lunch and that's what this meal is perfect for!
What is Monster Mash?
Your options with it are really endless, but here is the main idea:
90/10 Ground beef (or any other protein source – Ground chicken/turkey)
White Rice (Easy to digest and clean source of carbohydrates)
Spinach (Magnesium + Potassium)
Chicken stock/Bone Broth (gut health)
Optional ingredients:
Cherry tomatoes
Red/Green Bell Peppers
White potatoes
Carrots
This recipe isn't very complicated (and doesn't seem that exciting) but it gives you everything you need, tastes great and is insanely easy to make in the Instapot.
(I normally add in the cherry tomatoes because they help keep the food from being dry when reheating)
OK, here's how you make it:
Step 1:
– Put 2.5 cups of White Rice into the Instapot
– Add 3 cups of water over the rice
– Add 1 cup of chicken stock/bone broth and stir
Step 2:
I put about a Tablespoon of Ghee butter in the water after the rice. This is the brand of Ghee that I absolutely love and its in the baking isle at wegmans. (Make sure to get the Pink Himalayan Salt one!)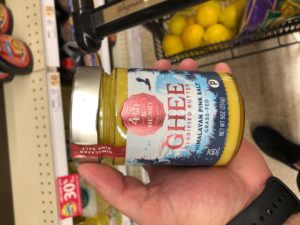 Step 3:
I use about half of a bag of spinach, chop it up and put it on top of the water.
Step 4:
I cut up half of the cherry/grape tomatoes container and put the first half on top of the spinach.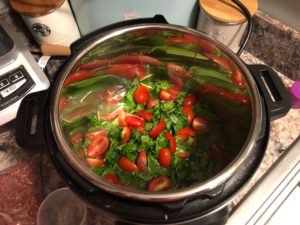 Step 5:
Take 2.5 lbs of uncooked ground beef/chicken/turkey and make them into 6-7 meatballs. Place them on top of the spinach/tomatoes.
Step 6:
Put the rest of the cherry/grape tomatoes on top of the meat. Add salt/pepper if you'd like!
Step 7:
Close the lid and click the "White Rice" button. From here the Instapot will beep and start to warm up. Once it is warmed up it will beep again and should say "00:12" for 12 minutes of cooking. After the 12 minutes it will beep and the display will read "L0:00". This is keeping the unit warm but no longer cooking.
To keep it from getting to "soggy" I wait until the unit reads "L0:04"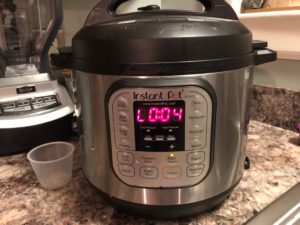 Step 8:
– Release the pressure from the unit if needed. When you open it should look like this.
Step 9:
– I take an oven mitt and hold onto the unit while I break up the meatballs and mix everything up. The meat may not look done but once you mix it up it will finish cooking and ready to go!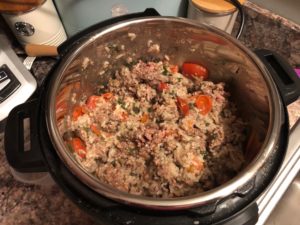 From here, I put about 2 cups of the monster mash into glass containers for storing. The 2 cups might be too much for some, so you may be able to get even more meals from this recipe. This makes enough for two days of lunches for me.
Try this out and let me know how this works for you and your family!
Coach John
Just a reminder, Nutrition Consulting is available at no extra charge with your membership at Elite Personal Fitness. Email me at John@joinelitenation.com to get started with your nutrition coaching!
Knowledge is power. Get strength in your inbox.
(We do not share your data with anybody, and only use it for its intended purpose)